Designed for equine veterinary use. V-PRO provides you with an all-inclusive solution to safely, efficiently & easily perform in-depth cardiac investigation & equine health monitoring.
V-PRO can be worn comfortably and safely in the stall for extended periods, providing an ideal clinical monitoring solution. All information is communicated to you, or the veterinarian on duty via the V-PRO app, with 'Push alerts' sent if the horse's metrics go outside of the normal parameters, enabling early intervention where needed.
All information is processed & stored securely in the cloud and can be accessed anywhere via the V-PRO app, helping to alleviate pressures on resources and providing you with levels of patient oversight never before possible, whether in-clinic or on-farm.
Heart Rate
Respiration
Temperature
Sweat
Movement
Location
Smart Harness
The V-Pro harness is breathable, & ergonomic for the horse, with all wiring, electrodes & sensors carefully integrated to ensure patient safety & practicality as a priority.
A combination of stretch, air & grip mesh fabrics, combined with significant testing in relation to anatomic appropriateness to avoid any rubbing or safety concerns.
The harness is suitable to be worn in stable or in the paddock, being waterproof & weather resistant Information is captured in real time and processed on-board the electronic device with updates pushed to the cloud every 60 seconds. The Harness truly allows you to monitor the horse from stable, to paddock & from horse box to aeroplane.
ECG Anywhere
V-PRO includes on-board ECG capability built into the wearable harness for at-rest use (capable of running for 24hours), and an accessory saddle-pad to facilitate exercise ECG capture.
The ECG produced, is clear & concise, highlighting any anomalies and allowing you to zoom into & analyse the output report in great detail.
All data is recorded on the electronic device and transmitted for processing to the cloud for subsequent analysis using the V-PRO app.
If you require a short, concise & immediate ECG, then the ECG live view function allows you to quickly stream a realtime ECG to your phone while you are next to the horse.
Movement & Position
V-PRO will track the movement of the horse in the stall – helping you to understand the horses' behaviour and activity patterns like never before.
V-PRO also records what position the horse is in, indicating whether it is standing, lying prone or in a lateral lying position.
Movement & Position, combined with for example an increased heart rate can indicate a significant event . It also tracks the horses location whether in the field or in transit – giving you up to the minute insight wherever your horse might be.
V-PRO App & Alerts
The app is designed to make simultaneous monitoring of multiple horses easy. It provides an overview summary of the last 60 minutes as well as a detailed view of both live and historic data.
The app can send push notifications to users for any biometric alert. Alert thresholds can be adjusted on a global or individual horse basis.
The V-PRO app also allows multiple vets in the organisation to monitor horses collectively as a team or privately. Temporary access can be shared with an owner in the case of remote monitoring on the farm.
Monitor horse vitals and cardiac health in real-time from anywhere.
Real-time biometric data monitoring in the palm of your hand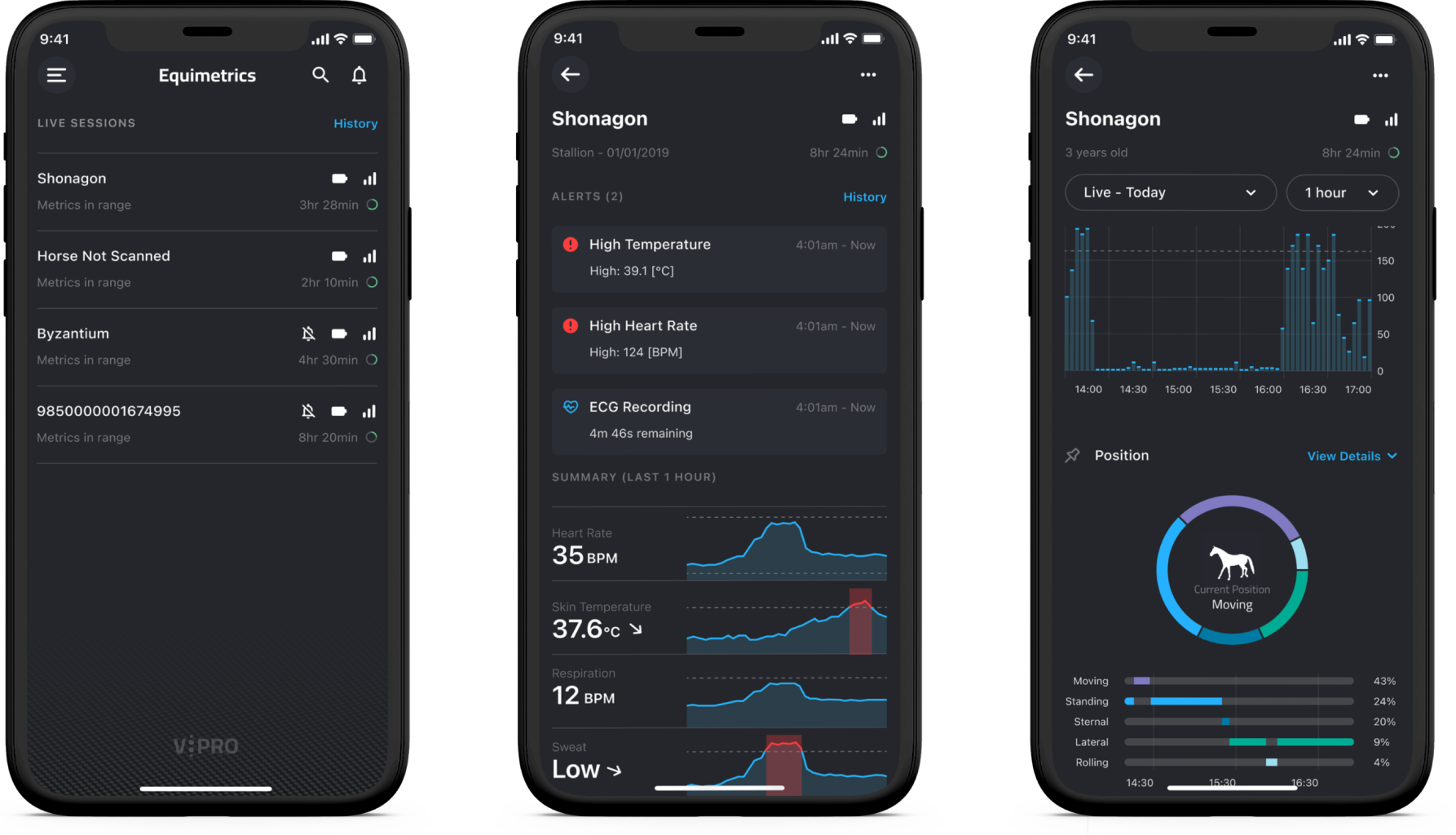 Supported Platforms
The app is available for both Apple iOS and Android platforms